You can ensure that a hungry child receives a nutritious meal; a sick child receives vital medical care; an orphaned child has a safe place to call home; and a poor child can access a valuable education.
GIVE
It only takes a few dollars to feed a hungry child, buy a school book, provide a dose of medicine or supply a warm blanket.
planned giving
Leave a legacy of love and hope that will benefit poor children for years to come.
connect with us
Sign up for our emails so we can send you heart warming stories, pictures and videos.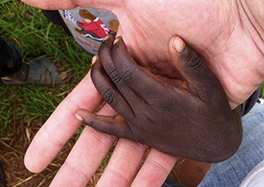 get a free gift
Fill out our survey to receive a FREE inspiring, full-color 128-page poetry book.
submit your experience
Tell us about your connection to Salesian Missions and your love of St. John Bosco.
join us in prayer
Submit your prayer intentions so that we may pray for your needs.
volunteer
If you're one of those special people who want to make a remarkable difference, we invite you to learn more about becoming a Salesian Lay Missioner.