Give Now
Transform the lives of impoverished children who have nowhere else to
turn.
one-time donation
Help us change the lives of impoverished children around the
world.
give monthly
Become a monthly partner and make a difference all year long.
fund a project
Make a profound impact by helping to fund a specific mission
project.
build a chapel
Help provide a house of worship for the poorest of the poor.
More Ways To Give
We understand that our friends and donors prefer different ways to show their support. For that reason, we offer a wide variety of giving options.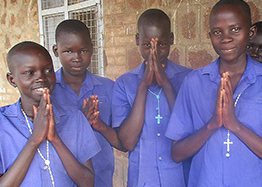 corporate giving
By partnering with Salesian Missions, your contributions are
applied cost-efficiently and generate maximum impact.
have your gift matched
Double (or triple) the impact of your kindness and generosity
through your workplace to benefit more children in need.
donor advised funds
Another unique way for you to help poor children and receive tax
advantages.