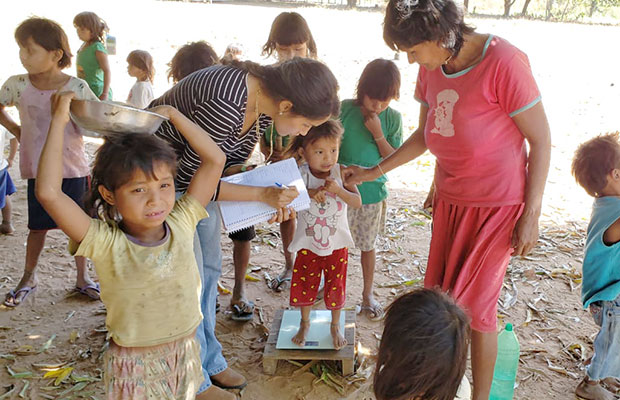 Nurturing Healthier Futures
In the Xavante village of Santa Fé, Brazil, access to health services is complicated. Multi-dimensional poverty among the families who live there, combined with the remoteness of their community and few nearby physicians, leaves them especially vulnerable to otherwise preventable illnesses—with children's outcomes among the worst. Operation Mato Grosso aims to change that by bringing aid directly to the people.
This Salesian-led initiative has been supporting the needs of indigenous communities throughout the region for more than 50 years. This past June, a volunteer team visited Santa Fé—where 120 people live in just ten small homes—to assess the health of children at serious risk of malnutrition.
"Hunger and poor health are deeply connected," explains Father Gus Baek, director of Salesian Missions. "We know from experience that malnourishment in children can quickly lead to conditions like stunting and wasting, as well as a variety of illnesses that are difficult to effectively treat in the absence of sufficient food. In communities where poverty is endemic, this cycle can become impossible to break. That's why interventions like these are so crucial."
The members of Operation Mato Grosso's Children's Pastoral Care Team included Salesian deacon José Alves; a nutritionist; an indigenous elder; a lay volunteer from Belgium; and a volunteer physician from Italy. Their goal was to measure the impacts of a focused nutrition program during the course of a month. Operation Mato Grosso would provide the food, while the team monitored improvements in children's health.
During their first visit to Santa Fé, volunteers weighed the children and conducted initial checkups to establish a baseline. Each week for the next month, they returned to see what changes had occurred, if any.
Fortunately, those changes were overwhelmingly positive. Nearly every child gained weight and their health markers were much better, too. The team referred two children to a hospital outside the village for more comprehensive care; they're expected to make a full recovery.
Dr. Paolo Fior, the Italian physician, explained his motivations for connecting with the Salesians and Operation Mato Grosso. "I've been helping out because the Xavante people really need to be accompanied for many of the diseases they are affected by. There are many children in the villages who need help. Also, their access to health care is limited, so it's a good thing to be able to help them in their own villages," he says.
Dr. Fior added that improving health among indigenous people is a way to help preserve their culture. "I realized that this work is very important. It is also very important for the city of Campinápolis to know that there are people who go all the way to the very last village to give them some attention as well. We prepared food for them to show that there are people who care about them, who care about their health, and who like and respect the Xavante people."
Deacon Alves agrees. "For us Salesians, having volunteers like Dr. Fior as partners in this work of service to the Xavante indigenous community is an immense gift from God."
Learn more about our work in Brazil.
Our mission improves health in vulnerable communities around the world. What's your mission?