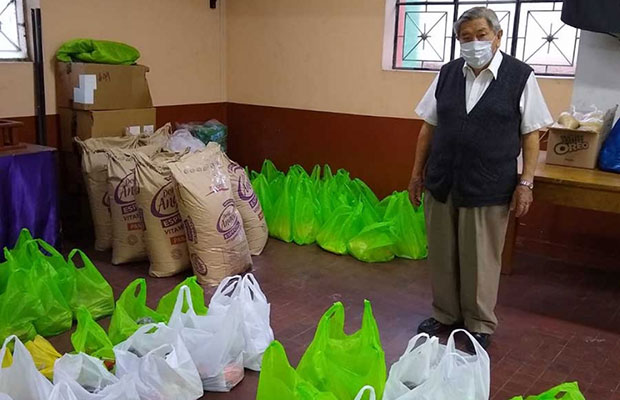 The Salesian Global Response to COVID-19
In times of crisis, Salesian missionaries are uniquely positioned to respond to the needs of the communities they serve. Living and working side by side with those who rely on them for help, our missionaries have earned the necessary trust to navigate the local culture and landscape in order to accomplish what needs to be done. During this COVID-19 pandemic, they are once again leading critical response efforts around the world.
Right now, missionaries are providing food, protective face masks, hygiene supplies and health education to needy children and families, and other vulnerable populations, as well as protective gear and other supplies to medical workers. Here are just a few small examples of this massive mobilization:
India
Since the pandemic began, missionaries living in the Salesian community of The Retreat in Yercaud—along with local youth and other volunteers—have begun relief work that includes distributing food to 100 abandoned elderly and physically disabled individuals, as well as to 200 needy families. Many of the families living within 15 tribal villages scattered throughout the region depend on daily wages for their livelihood, which is now threatened due to the pandemic. As of the end of April, the Salesians had distributed bags of groceries, each containing rice, beans, oil, spices, flour and mixed vegetables to them.
Missionaries at Don Bosco Nerul in Mumbai have been helping to feed over 2,000 migrants and day laborers who are stranded in camps throughout the slums of Mumbai due to the COVID-19 virus. Without savings to sustain them, workers have been grateful for the rice, beans, oil, sugar, tea and condiments. Says one struggling construction worker, "It is very difficult, whatever we get is good; today I will not sleep hungry."
Salesians at Chennai Corporation and the Don Bosco Anbu Illam HCL Foundation are providing crisis counseling as well as food, shelter and hygiene products to families and migrant workers, as well as making masks for police and health workers.
Peru
When COVID-19 shut down Chosica, Peru, where 92-year-old Father Rolando Ramos serves as a parish priest, he immediately went to work organizing an emergency brigade to prepare and deliver "salvation bags" with basic necessities for poor Peruvian and Venezuelan families. So far, his parish has distributed food to 800 vulnerable families. More than half of these are Venezuelan immigrants, who have suffered greatly due to the economic shutdown because they are day laborers living on meager wages.  Fr. Raul Acuña, director of Fundación Don Bosco of Peru cites Fr. Rolando as an example to "imitate in the midst of this pandemic" and says, "Salesians cannot sit back idly while people are hungry; children and young people need priests like him."
Angola
In the capital of Luanda, missionaries had already fed and housed hundreds of street children and youth in several centers by the end of April. They have pledged to protect these children during the pandemic, and have taken on an additional 100 children at a new center, at the request of the local government. Omar, a Muslim baker originally from Mauritania, is helping out. Since the beginning of the quarantine, he has been donating bread to the Don Bosco centers. Omar told the Salesians that "God will pay for this work," and has posted a sign at the entrance to his bakery inviting others to join in solidarity and set a good example.
Europe
Salesians are also stepping up in some of the hardest-hit places in Europe. This includes providing food for the needy and resources to civil authorities to help fight the pandemic. In Florence, Italy, for instance, Salesians and volunteers are collecting and distributing food to the poor two days a week, benefitting approximately 600-700 families. Salesian schools in Évora, Estoril, and Mogofores, Portugal have offered their facilities to local civil authorities for use during the pandemic. And Salesians in the capital city of Lisbon have provided 500 daily meals to the homeless.
United States
Students in the "Integrated Design, Engineering and Art" (IDEA) program at the Don Bosco Technical Institute in Rosemead, CA have designed and are producing protective face shields with the school's 3D printers for medical personnel.
Salesians at the Don Bosco Community Center in Port Chester, NY run one of the only food pantries in the area. They are providing an average of 230 meals each day to help residents in the community who are unable to shop due to closures of local businesses. In addition to the food program, St. John Bosco Parish is raising awareness of preventive measures, providing home delivery of food, making and distributing masks, offering online counseling and classes, transporting the sick to hospitals, and assisting the homeless with resources for accommodations.
With the spread of the COVID-19 virus worldwide, virtually every community is facing hardship and stress well beyond the ordinary. Everyone is suffering, but those who are most vulnerable—children, the poor, the elderly, and the sick—continue to be most at risk. This is why the work of the Salesians is so important—now, and every day of the year—in the communities they serve in countries around the world.
Learn more about the Salesian COVID-19 response.
Our mission helps ensure missionaries are on the front lines helping those most in need—even in the midst of a global pandemic. What's your mission?