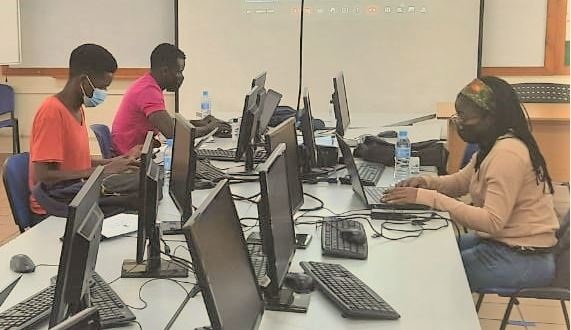 WORLD TEACHERS' DAY: Salesian Missions highlights teacher training programs that support teachers around the globe
Salesian missionaries educate more than 1 million youth in more than 130 countries.
NEW ROCHELLE, NY (Oct. 5, 2021) Salesian Missions, the U.S. development arm of the Salesians of Don Bosco, joins humanitarian organizations and countries around the globe in honoring World Teachers' Day celebrated each year on Oct. 5. The day honors the vital role that teachers play in the lives of their students. Since 1994, World Teachers' Day has been held annually and commemorates the anniversary of the signing of the 1966 ILO/UNESCO Recommendation concerning the Status of Teachers.
The United Nations Educational, Scientific and Cultural Organization (UNESCO) has noted that the theme for this year's World Teachers' Day is carried over from the theme for 2020 "Teachers: Leading in crisis, reimagining the future," and the day "provides another occasion to celebrate the teaching profession worldwide, take stock of achievements and draw attention to the voices of teachers, who are at the heart of efforts to attain the global education target of leaving no one behind."
In a statement about the day, UNESCO noted, "The COVID-19 pandemic has significantly added to the challenges faced by already over-extended education systems throughout the world. It is no exaggeration to say that the world is at a crossroads and, now more than ever, we must work with teachers to protect the right to education and guide it into the unfolding landscape brought about by the pandemic."
Teachers play an important role in the lives of poor youth in Salesian schools. Their work is vital to their students' success both in and out of the classroom. Salesian missionaries educate more than 1 million youth in over 5,500 schools and youth centers and nearly 1,000 vocational, technical and agricultural schools in more than 130 countries around the globe.
"Teachers are the backbone of the Salesian educational system and need our support in helping to ensure their work is valued and respected," said Father Gus Baek, director of Salesian Missions. "Salesian teachers face many challenges educating poor youth. Many of their students have faced severe poverty and often lack basic needs such as food, clothing and shelter. Some were previously living and working on the streets, and others have faced war as child soldiers or become refugees in war-torn communities. Salesian teachers, who often come from similar backgrounds, meet these challenges head-on, providing education and hope for a brighter future."
In honor and celebration of World Teachers' Day 2021, Salesian Missions is proud to highlight the work of Salesian teachers and programs that support them around the globe.
MOZAMBIQUE
At the end of July, teachers in Maputo, Mozambique, attended technical training as part of the "Technical Volunteering" project that is a collaborative effort between Salesians in Maputo and Pamplona, Spain. The training normally takes place every year in person, but due to COVID-19 travel restrictions, it has been done remotely online for the last two summers.
At the end of 1992, Mozambique was ravaged by civil war. The peace agreements signed in Rome put an end to 17 years of clashes, but the population faced hundreds of thousands of deaths and millions of people who had been displaced, some having left the country as refugees who would never return. Many children lost years of schooling in the process.
In 1994, two Salesians in Pamplona reached out to Salesians in Mozambique, as well as state and local authorities and international organizations, to start talks about launching vocational training to help educate, and in some instances, re-educate a whole generation of youth. Initially, 12 members of the Salesian community in Pamplona traveled to Maputo to provide teacher training and help set up technical training centers for youth.
Five technical and vocational training centers have since been developed. The Don Bosco Higher Institute in Maputo has also developed a university center dedicated to the preparation of technical and vocational teachers. The Don Bosco Higher Institute is the only professional teacher training program in the country and provides training to more than 600 students each year. Partially funded by the Spanish Cooperation, it is also the only teacher training center in Mozambique recognized by the Ministry of Education for the training of teachers of professional schools.
KENYA
Salesian missionaries held an online graduation ceremony for graduates of the Salesian Technical and Vocational Training Center management course on Jan. 11. The course was specifically designed to improve the quality of vocational training and was divided into the four modules of organizational management, financial management, entrepreneurship, and green and sustainable approaches.
In delivering his congratulatory message on behalf of Don Bosco Tech Africa, Father George TJ, executive director, congratulated graduates for their perseverance and concentration. He expressed gratitude to the whole team of the International Training Center of ILO for their professionalism in conducting the educational sessions. Fr. TJ also thanked Don Bosco Mondo in Germany for its support and financing of the project.
The 33 participants in the training came from Kenya, Malawi, Nigeria and South Sudan. On Jan. 25, 136 people started the course. This kind of training is important to improve the skills of those teaching in Salesian schools. Their work is vital to their students' success both in and out of the classroom.
CHILE
Salesian missionaries with the Provincial Department for Education in Santiago, Chile, strengthened the skills of teachers throughout 2020 with more than a dozen new workshops and diploma-based courses. The workshops and courses were made available to administration leaders and teaching teams from Salesian schools in the country.
Juan Pablo Vásquez, director of the Network of Salesian Schools, reported that this professional development initiative is the result of the strategic planning established in 2019. The workshops and courses were developed thanks to a relationship with the Silva Henríquez Catholic University and with other local institutions.
One of the most important diploma-based courses launched was in transversal management. The course was taught by educators from the Silva Henríquez Catholic University School of Philosophy and attended by 64 primary and junior high school teachers from Copiapó, Talca, Linares, Punta Arenas and Santiago. The first course ended in January 2021.
A meeting was held in early December 2020 for directors and principals to discuss the outcome of the transversal management course. The training went so well that participants expressed their intention to recommend the same course to other colleagues. One participant said, "Teachers must continually improve, and even more so the principals, whose role is fundamental in training people."
INDIA
Don Bosco's Prafulta Psychological Services, located in Mumbai, India, graduated 42 teachers who are now trained in basic skills in counseling. The teachers took the training course from June to November 2019.
One teacher noted, "More than ever, our children today need our emotional support and understanding. This course has helped me to accept and understand the variety of children I encounter in my all-inclusive classroom and be present for each of them."
Prafulta Psychological Services was started in 1998 and provides psychological evaluation and diagnosis, professional counseling, career guidance, remedial education, psychiatric services, and occupational therapy. The organization's psychologists and other professionals offer these services to individuals, groups and families to help aid independent functioning and improve quality of life.
To help increase mental health awareness and meet the needs of children, Prafulta Psychological Services offers coursework and training for professionals, including teachers, to advance their skills in helping youth and their families in a school setting. The Basic Skills in Counseling for Teachers program was launched in 2005 and provides training to help teachers learn the skills to handle basic emotional and developmental issues of their students. To date, the program has trained 777 teachers from 133 schools.
###
Contact: [email protected]