A Meaningful Gift from the Heart
September 12, 2022
Every morning, Father Elie Nyandwi rises before dawn with the same two questions on his mind: Do we have enough food to feed the children today? And will we have the resources we need to continue? Thanks in part to a new partnership between Salesian Missions and a generous U.S.-based benefactor,...
Read Full Story
New Beginnings for Youth in Despair
September 12, 2022
Paulo was just 10 years old when he saw a friend fatally shot during an attempted robbery. Sadly, he wasn't really shocked; the two boys, along with three other friends, had been spending the majority of their time on the streets where—with each passing day—their future prospects grew dimmer...
Read Full Story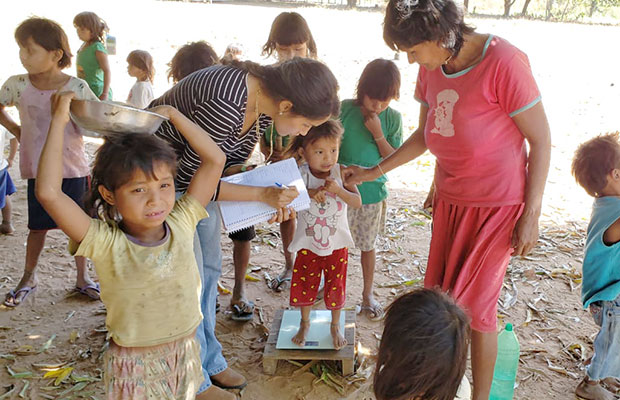 Nurturing Healthier Futures
August 12, 2022
In the Xavante village of Santa Fé, Brazil, access to health services is complicated. Multi-dimensional poverty among the families who live there, combined with the remoteness of their community and few nearby physicians, leaves them especially vulnerable to otherwise preventable illnesses—with...
Read Full Story
A New Lease on Life
August 12, 2022
Far too many children in India have difficult lives. High rates of extreme poverty drive thousands of them to the streets, where they struggle with the daily horrors of rampant exploitation, forced labor, physical violence, trafficking and worse. At a Salesian-run home in Konaseema, located in the...
Read Full Story
Lighting the Way Forward in Benin
August 12, 2022
Child trafficking is a daily fact of life in Benin. Some are unsuspecting victims of broken trust. Others are betrayed by staggering poverty. All are abused, exploited and lacking hope. At Foyer Don Bosco in Kandi, Salesian missionaries are lighting the path forward through rehabilitation and...
Read Full Story
A Second Chance for Homeless Youth
July 11, 2022
One of the poorest countries in the world, Madagascar is a place where nearly 90 percent of residents live in abject poverty—including 82 percent of kids under the age of 18. Far too often, this harsh reality forces parents to abandon their children—a situation our Salesian missionaries are...
Read Full Story
Empowering Displaced Refugees
July 11, 2022
At a time when a record 84 million people have been forcibly displaced from their homes, Salesian missionaries are providing life-changing assistance to nearly 400,000 men, women and children affected by war, persecution, famine and other disasters around the world. One of them is Rimonda. Recently...
Read Full Story
Igniting the Flame for Brighter Futures
July 11, 2022
Millions of youth across India struggle to receive an education—and the stable employment opportunities it provides—due to persistent issues surrounding caste, class and gender. As a result, less than 10 percent of the country's working-age population has completed a secondary education,...
Read Full Story