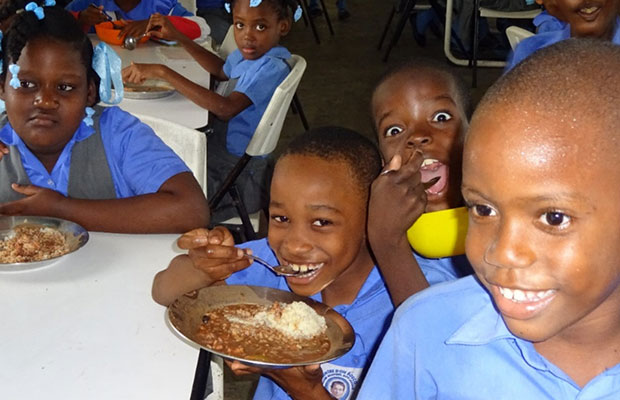 Small Miracles, Immeasurable Impact
Each year at this time, Salesian Missions launches the Loaves and Fishes campaign—which leverages the power of our global partnerships and the generosity of our donors. The value of donated relief goods such as food, clothing and medicine is multiplied fourteen times over. Support for this campaign covers the cost to transport these supplies to destinations around the world—like Haiti—where our missionaries deliver them to children and families in desperate need.
To ensure youth at Salesian centers in Haiti have access to better nutrition, Salesian Missions launched its Hunger for Education project. The goal of the program is to increase the health and learning capacity of students by implementing school feeding programs. Thanks to this program and the generosity of our donors and partner organizations, thousands of Haitian children and youth have received vital nutrition.
Haiti's population has one of the highest levels of food insecurity in the world. Three-quarters of the country's 10.7 million people live on less than $2 a day, and more than half are undernourished. Almost 100,000 Haitian children under the age of 5 are acutely malnourished, causing irreversible stunted growth for nearly 30 percent of the country's children.
To date, through the Hunger for Education program, Salesian Missions has shipped a total of forty 40-foot containers of rice-meals to Haiti for distribution to six Salesian education centers located throughout the country. Meals were donated through partnerships with Rise Against Hunger, Breedlove, and Feed My Starving Children.
The rice-meals provided lunch five days a week to children and youth attending these programs, as well as two months of meals for students at summer programs in several smaller communities. At its peak, the program fed more than 18,000 participants.
School cooks received extra training on how to prepare the donated meals, and helped ensure that each of the centers' kitchens were adequately equipped. In addition, a kitchen was developed at the Cardinal Keeler Center in Gonaïves, which previously did not have one.
Salesian Father Yves Jorcelim Pierre, director of the center, noted that this has all "been a great blessing to our center. Children are now assured a hot meal each day. Prior, many were coming to school on an empty stomach and dreading there was no food to go home to in the evening. Children are much more focused on their studies now."
This outcome is common for Hunger for Education sites. Directors at each participating school have noted student academic performance has improved with the addition of the food program. Students had more energy to continue in their studies after meal programs were implemented and report cards improved.
Youth in vocational training programs such as at the Fort-Liberté center, where agricultural students work for 3 hours each morning in the school's fields, can count on food being available when they are finished with their physical labor. Now they have energy not only for their education but also for after school activities like soccer.
Learn more about our Loaves and Fishes campaign.
Our mission delivers life-changing meals to children attending school in Haiti and around the world. What's your mission?